How CROCOdoff Contributes to Efficient Spinning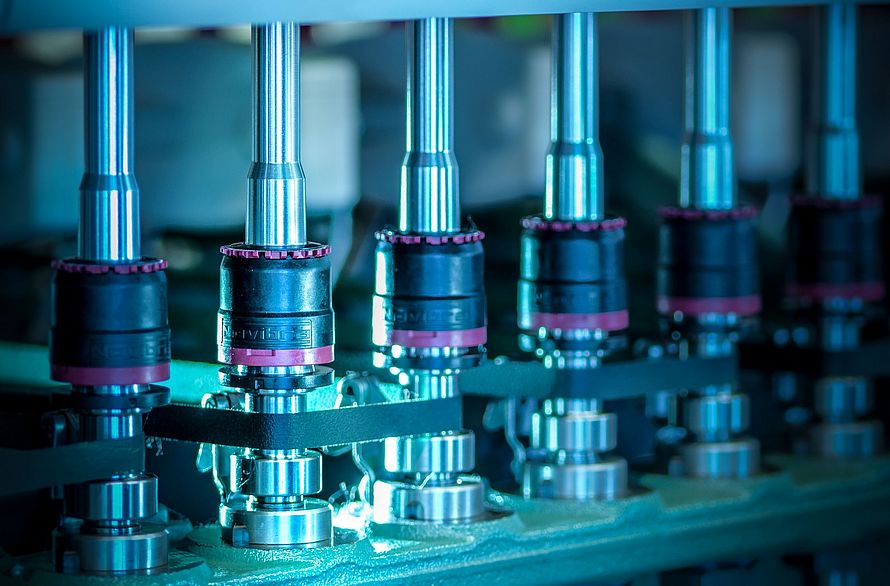 Every spinning mill around the world faces the twin challenges of high energy consumption and a shortage of skilled labor. The only way to stay competitive is automation. This is where Novibra's clamping and cutting crown CROCOdoff comes in, that enables underwinding-free doffing. It reduces cleaning and maintenance time and contributes to reduction of energy consumption and number of after-doff ends down. It is no surprise that six million spindles equipped with CROCOdoffs are in use globally, in different machines, for different yarns and raw materials.
Spindles with traditional underwinding system demand a lot of time to clean the yarn catching area and fix the high ends down rate after doffing. But rising wages and labor shortages are increasingly putting spinning mills under pressure as fewer people are available for cleaning and maintenance of spinning machines. The shortage in labor can mean that the yarn catching area is not cleaned for hours and yarn production cannot resume, resulting in significant production loss and lower yarn quality. That is why spinning mills opt for more automation, upgrading their machines with auto-doffers and spindles with underwinding free crowns that require fewer operators and less maintenance.
CROCOdoff for Efficient Clamping and Cutting of the Yarn
Novibra's latest generation of clamping and cutting crowns, CROCOdoff, offers improved functionalities and an optimized design that meets the requirements of modern spinning mills (Fig. 1). CROCOdoff noticeably optimizes spinning automation as it not only helps reduce the required maintenance time and costs; it also allows running the ring spinning machines more efficiently and economically and thus contributes to reduction of energy consumption.
CROCOdoff enables doffing without underwound yarn left on the running spindle. The machine no longer needs to be stopped to clean the yarn catching area of the spindle so yarn production can continue seamlessly. When the doffing is finished, the yarn end flies out of the system and there are no open yarn tails that consume expensive energy.
The secret lies in the efficient clamping of the yarn. The catching area of the crown has a meander (resembling crocodile teeth and giving the crown its name) for catching and cutting of the yarn. It can be clamped tightly and prevents it from slipping out. Extensive tests conducted on different raw materials proved the reliability of the system that has been confirmed in practice in the reduction of the after doff ends down rate.
Customer's Benefits
Over the course of several months, measurements were taken on four different machine types – one with CROCOdoff equipped spindles – under the same conditions. With the three traditional underwinding systems the average ends down rate was between 45 to 70 depending on the respective machine brand. The average ends down rate on the machine running with CROCOdoff was only 11 ends down per doff, making it roughly four to six times lower.
Moreover, CROCOdoff makes cleaning easy. According to a customer located in Shandong, China, before installing CROCOdoff, they had to stop each machine once a day for 20 minutes to clean the underwinding section and fix the high number of ends down after doffing. CROCOdoff reduced the ends down rate and there is no need to stop and clean each machine daily. Another customer in China with a different raw material and yarn count reported that with CROCOdoff the ends down rate during doffing consistently stands at around 2% and production efficiency is significantly higher. Maintenance is optimized, because the cleaning can be integrated in the general machine cleaning routine that takes place every two months in contrast to traditional yarn cutters that require cleaning every two days. The lower workload that is enabled by CROCOdoff provides more flexibility to assign operators to other tasks.
Modern Spinning Mills Count on CROCOdoff
In the face of labor scarcity for cleaning and maintenance, a highly reliable, self-cleaning system with a low ends down rate is a great opportunity for the modern spinning mill to enhance automation of its ring spinning machines. This is why spinning mills from different brands around the world turn to Novibra's CROCOdoff technology, with now six million spindles in use globally and counting.